RECOMMEND ME A MOVIE(TM)
If you are in search for a good movie to watch, you came to the right place.
I'm still on my Journey to watch my way through the history of cinema. Meanwhile I keep updating my list of the best movies of all time. I know some of these movies aren't very good but I rank them according to my own personal preferences, favorites, nostalgic reasons, sentimental and re-watch value. Besides the obvious picks you might discover some weird edgy stuff. If you haven't seen some of these, consider them as a recomendation for your next movie night 😉

It sure isn't that easy to come up with a list of 100 favorite movies. So there's pretty much all of Tarantino, Kevin Smith, Rodriguez and a lot of Edgar Wright in there… because I like all their movies. Who doesn't ? Also a lot of goofy and weird stuff in there.
UPDATE:
I've made the decision to batch some Movies together and give them single Ranks. Sometimes it's just the interconnection between movies or the particular style of Movies that makes the whole thing so great. And a lot of the times, ranking one Movie without it's sequels doesn't quite fit. Also if I didn't batch some things together, The list might aswell resemble a filmography of three or four directors which would be lame. So through giving a couple of movies a single place in the ranking, makes it more diverse and interesting. It also takes care of the most obvious picks, nearly everybody likes and shifts the focus to more unknown films. And most of all…. I just can't decide most of the time.
Here you go: Ranked from best down
( LAST UPDATED November 2019 )
01. Every Quentin Tarantino Movie Ever
Okay let's get this out the way first. Hands down, best director is Tarantino. And all his movies are friggin awesome. I don't like Jackie Brown that much, but even that Movie isn't that bad. I just think it's kinda boring and not "tarantinoesque". The weird thing is, Every time I re-watch a Tarantino movie it honestly gets better. I think it's because in between I've watched more movies and recognize more references and homages. I think if you know where he gets his inspiration from, you can appreciate his movies more and more. They just get better with age. They probably would make #1 through #8 on my list, so I just combine them all. So rank number #1 goes to these Movies:
Pulp Fiction (1994)
Kill Bill Vol.1 & 2 (2003)
Inglorious Basterds (2009)
Django Unchained (2012)
The Hateful Eight (2015)
Reservoir Dogs (1992)
Death Proof (2007)
Once Upon a Time in Hollywood (2019)
02. Star Wars Saga
Everybody loves Star Wars. If you doesn't count the prequels. So #2 gos to the whole Saga minus the Jar Jar Movies. If I was forced to pick one I would definitly pick Empire Strikes Back, but I'm glad I won't have to and just can watch them all in a row ;P

03. Kevin Smith – The View Askewniverse
Kevin Smith is the Coppola of Slacker Comedy. He writes awesome dialogue and his movies are fun to watch. Every time I watch one of these, they instantly put me in a good mood. He was referencing popculture before referencing popculture was cool 🙂 I personally can't wait for Jay and Silent Bob Reboot. So Number #3 goes to:
Clerks
Clerks 2
Mallrats
Chasing Amy
Dogma
Jay and Silent Bob strike Back
04. Predestination (2014)
This must be the best time travel movie I have ever seen. If you seen a few time travel movies, you can maybe predict the whole thing from the midpoint of the movie, but until then you are completly in the dark and suddenly the plot unfolds. This a truly a weird and awesome movie, espacially if you watch it for the first time.


05. Back to the Future Trilogy
1.21 GigawatZZZ
Back to the Future (1985)
Back to the Future Part II (1989)
Back to the Future Part III (1990)
06. Edgar Wright – The Cornetto Trilogy
Edgar Wright makes awesome movies, but his comdies are one of a kind. They are funny, entertaining and unique. I recommend watching This youtube video from Every Frame a painting to get what I'm talking about.
Shaun of the Dead (2004)
Hot Fuzz (2007)
World's End (2013)
07. John Dies At the End (2012)
08. The Cabinet of Dr. Caligari (1920)



09. The 36th Chamber of Shaolin Movies
The 36th Chamber of Shaolin (1978)
Return to the 36th Chamber (1980)
The 36th Chamber: The Final Encounter (1981)
10. Indiana Jones – The Original Trilogy
Raiders of the Lost Ark (1981)
Indiana Jones and The Temple of Doom (1984)
Indiana Jones and The Last Crusade (1989)
11. The Best of Alex Garland
Ex Machina (2014)
Annihilation (2018)


12. Nearly Every Robert Rodriguez Movie
From Dusk till Dawn (1996)
Planet Terror (2007)
Desperado (1995)
Once Upon a Time in Mexico (2003)
Machete (2010)
Machete Kills (2013)
13. Godzilla Final Wars (2004)
14. Army of Darkness (1992)
15. Bud Spencer & Terence Hill Movies
I don't know about the english or even the italian Version of Bud Spencer and Terence Hill… I only know the german versions. And the Humor, patter and quipping in these movies is hilarious. I can watch them any day
Vier Fäuste gegen Rio
Zwei ausser Rand und Band
Zwei Himmelhunde auf dem Weg zur Hölle
Zwei sind nicht zu Bremsen
Zwei Asse trumpfen auf
Die Miami Cops
Zwei wie Pech und Schwefel
16. Blade of the Immortal (2017)
17. Heat (1995)
18. The Matrix Trilogy
The Matrix (1999)
The Matrix Reloaded (2003)
The Matrix Revolutions (2003)
19. Duck Soup (1933)

20. Charlie Chaplin's Greatest Hits
Modern Times (1936)
City Lights (1931)
The Great Dictator (1940)
Goldrush (1925)
21. Alien (1979)
22. The minimalist Movies of Vincenzo Natali
Cube (1997)
Nothing (2003)
23. A Trip to the Moon (1902) 😉
24. Fear and Loathing in Las Vegas (1998)
25. The Best Works of David Fincher (IMO)

Se7en (1995)
Fight Club (1999)
Gone Girl (2014)
26. Holy Mountain (1973)
27. The Hitchhiker's Guide To the Galaxy (2005)

28. Jurassic Park (1993)

29. Terminator 2 (1991)
30. King Kong (1933)
31. John Wick
John Wick (2014)
John Wick: Chapter Two (2017)
32. Ghostbusters (1984)
33. 7 Faces of Dr. Lao (1964)
34. Akira (1988)
35. The Fly (1986)

36. Gremlins 2 (1990)

37. Spider-Man: Into the Spider-Verse (2018)
38. Triangle (2009)
39. Scarface (1983)
40. They Live ( 1988)
41. Contact (1997)
42. The Wolf of Wall Street (2013)
43. Blood in, Blood out (1993)
44. Inside Out (2015)
45. Primer (2004)
46. Very Bad Things (1998)
47. Hobo With A Shotgun (2011)
48. Seven Pounds (2008)
49. Timecrimes (2007)
50. The Thing (1982)
51. Felidae (1994)
52. Kung Fury (2015)
53. Valerian and the City of a Thousand Planets (2017)
54. Nearly Every Stanley Kubrick Movie
Full Metal Jacket (1987)
2001: A Space Odyssey (1968)
Eyes Wide Shut (1999)
A Clockwork Orange (1971)
55. The Best of the MCU
Guardians of the Galaxy (2014)
Avengers: Infinity War (2018)
Avengers: Endgame (2019)
Spider-Man: Far From Home (2019)
56. The Best of Buster Keaton
The General (1926)
Sherlock Jr. (1924)


57. The Wizard of Oz (1939)
58. Rear Window (1954)
59. Charly (1968)
60. Spirited Away (2001)


61. The Count of Monte Cristo (2002)
62. Innerspace (1987)
63. Big Trouble in Little China (1986)
64. The Monty Python Movies
The Meaning of Life (1983)
The Life of Brian (1979)
Monty Python and the Holy Grail (1975)
65. Labyrinth (1986)
66. Starship Troopers (1997)
67. American Psycho (2000)
68. Mandy (2018)
69. Body of Lies (2008)
70. The Departed (2006)
71. Snowpiercer (2013)
72. The Time Machine (2002)
73. 13 Sins (2014)
74. Alice in Wonderland (1951)
75. The Cabin in the Woods (2011)
76. Inception (2010)
77. Forbidden Planet (1956 )



78. The Raid 2
79. Star Trek: First Contact (1996)
80. Asterix erobert Rom (1976)
81. The Big Short (2015)

82. The Chronicles of Riddick (2004)
83. Spaceballs (1987)


84. Slither (2006)
85. Bravheart (1995)
86. Evolution (2001)
87. Bad Boys 2 (2003)
88. Lord of the Rings
Lord of the Rings: The Fellowship of the Ring (2001)
Lord of the Rings: The two Towers (2002)
Lord of the Rings: The Return of The King (2003)
89. Blade Runner
Bladerunner (1982)
Bladerunner 2049 (2017)
90. Existenz (1999)
91. 11:14 (2003)

92. Groundhog Day (1993)
93. Office Space (1999)
94. Time Lapse (2014)
95. Return to Oz (1985)
96. Bride of Frankenstein (1935)
97. 13 Assasins (2010)
98. The Lion King (1994)
99. Baby Driver (2017)
100. Train to Busan (2016)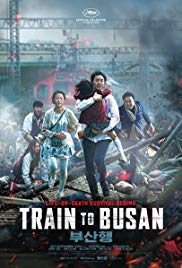 Recently Kicked of the list:
Parasite (2019)
Jason and the Argounats (1963)
Sicario (2015)
The Incredible Schrinking Man (1957)
Frequently Asked Questions About Time Travel (2009)
Slacker (1990)
Watchmen (2009)
Arrival (2016)
some honorable mentions which didn't make the list:
Planet of the Apes (1968), The Invisible Man (1933), Rope (1948), The Blob (1958), The war of the worlds (1953), Plan 9 From Outer Space (1959) [ just kidding… it is fun to watch though ], Vertigo (1958), The Good The Bad and The Ugly (1966), Night of the living dead (1968), Pumpkinhead (1988), Critters (1986), Heavy Metal (1981), Dark City (1998), Faculty (1998), Ronin (1998), Heist (2001), Gladiator (2000), Iron Sky (2012), Frankenhooker (1990), 12 Angry Men (1957), Joker (2019), The Irishman (2019), IP Man (2008)
This list will probably evolve as I watch and re-watch movies. I watched so much movies and I'm still missing flicks which probably count as common knowledge. I'm betting I will squeeze some if them in in the future.